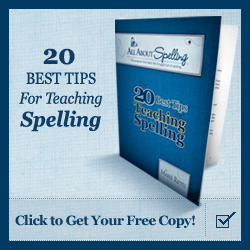 We are having a great time with the All About Spelling curriculum! It was love at first sight when this neatly packed boxed showed up in my mailbox with its crisp new teacher's manual and fresh never-been-mauled-by-the-baby flash cards!
"Mommy, why are you drooling on that box?"
"Nevermind."
While I gather my thoughts again, go ahead and read the back of the book …
"Marie Rippel (the creator of the All About Spelling curriculum) is a literacy expert who helps educators and parents teach spelling. Using multisensory techniques and research-based strategies, she has helped thousands of children learn to spell.
Known for communicating abstract ideas in a concrete way, Marie has developed a method of teaching spelling that takes advantage of the different ways people learn. This method presents concepts clearly so they are easy for students to understand and fun for the instructor to teach. When she is not writing or teaching, Marie can be found biking, hiking, and enjoying the great outdoors with her family."
In my fancy package, (which satisfied my "new school supplies" urge for quite a while) I received Levels One and Two of the All About Spelling curriculum.
The children I am teaching with this curriculum are my just-turned 5 year old daughter who reads very fluently and my 3 year old son who is not a *reader* yet, but he is making progress.
Set-Up
At first, I was slightly daunted by all the pieces that were included in one level but I soon found that the manual does a fantastic job of walking you through the initial prep work and the lessons with the children.
The initial set-up took me a full night of separating perforated cards (and being glad I didn't have to cut them!), cutting letter tiles, sticking the backs of the tiles with magnets, laminating the phonogram cards (not a requirement, just something I decided to do), reading through the introduction in the manual and setting up my index card box with the tabbed dividers.
Except for the index card box, all of the supplies are included.
The First Lesson
Will they like it?  Will I be good, or at least okay, at teaching it?  Will they have fun?
Every time I start a new curriculum, questions swirl through my mind about the mix of my kids and the curriculum.  This time was no different!  Once again, though, the manual came to my rescue – I love that book!  It's like having Marie right there with you!  There are some Sample Lesson Plans on the All About Spelling website for Levels One thru Three, if you would like to check them out.
In the first lesson, we basically figured out what phonograms (letter or letter combination that represents a sound) they already knew the sound for.  We separated them into two piles: Review and Mastered.  My daughter had none in the Review pile while my son had more than half in that pile.
I went through a few of the Review cards with my son, while my daughter waited.  I'm not sure what to have either of them do while I work with the other student.  Having two sets of the cards and tiles help in some areas of teaching, but sometimes, if you are teaching more than one, the other just has to wait a moment – but I guess that's part of regular life, isn't it?
Next, we looked at the "qu" phonogram and they seemed to understand it pretty well.
Lastly, we checked off the Progress Chart.  I let the kids color in the honeycomb piece for lesson one.
Whew!  We made it and they didn't even turn up their noses!  And, they loved the progress chart.
Remaining Material
At the time of this writing, we are not quite done with Level One yet, but the kids are making progress.  They really are enjoying the All About Spelling curriculum and I am definitely enjoying teaching it.  What a difference it makes when the manual is so well laid out. It is so easy to understand what is coming next and what my kids need to get out of this next lesson.
We are using this curriculum every other day and I usually look at the next lesson the night before just to make sure I have the necessary cards up front in my index box – I hate being unexpectedly disorganized in front of the kids.  It takes less than 5 minutes to check it out and then I am ready for the lesson!  Easy as pie!
A few lessons into the material, we started to use the letter tiles which I had assembled with the magnets.  Marie recommends getting a Student Material Package for each student that you are teaching and I wholeheartedly agree.  I do not have a separate package for each of my students and it does get a little hard sometimes.  I ended up using the phonogram cards for one student and the letter tiles for another student for the lessons that called for the letter tiles.  Then, they just take turns using one or the other.  It works for us for right now – we'll see if it holds out.
Where Should I Start? Is My Child Ready?
My children are so young, it was pretty easy to figure out exactly where to start with them in this curriculum.  But, maybe you have a child that is a little bit older, you may be wondering if level one is the right place to start.  Since there are five different levels, with a sixth coming next spring, there might be a better place to start.  Marie has put together some questions to help you decide.
But, on the flip side, with younger children, you may also be wondering if your child is even ready to tackle such a curriculum.  Didn't you know Marie has tackled that question, too?  Of course you did!
Forum and Other Resources
This curriculum is not just some supplies and a book – its a whole community of folks trying to teach children how to spell.  The All About Learning Community forum is alive with 1,000+ others who are using this curriculum – but it isn't exclusive to only AAS users.  You just might find an answer to another language arts question you've had!

Speaking of answering questions, AAS has a phenomonal page on the site chock full of articles related to teaching spelling.  From strategies and approaches to phonemic awareness and dyslexia, there is a wealth of information right at your finger tips for free, whether you ever order the curriculum or not!
Pricing
A quick look at the products page will help you understand exactly what parts of this price list you would need to budget for to get started.  Essentially, you will need a starter kit and Level One (or the appropriate level for your student).  When you order your level, you will get a Teacher's Manual and the Student Material Packet.
$26.95  for Starter Kit – (includes letter tiles, magnets, CD-ROM)
$29.95  for Level One
$39.95  for each of the subsequent levels (Two thru Five)
$14.95  for Level One Extra Student Material Packet
$19.95  for each of the subsequent level extra packets
$10.95  for Letter Tiles
$5.95  for Magents for the tiles
$14.95  for the CD-ROM
$12.95  for the Phonogram Cards
In Conclusion
As I said right from the start, we have really enjoyed using this curriculum which makes me confident that, in the end, we will see much success with its use!  Every learning style, attention span and achievement level is addressed with this curriculum.  We give it six thumbs up!
Are you ready to purchase All About Spelling?  Click the link below to get more great info on this product!
I sure hope this review has helped you in some way!  Please feel free to comment (bloggers love comments!) if you have any experiences with this curriculum or if you have further questions.