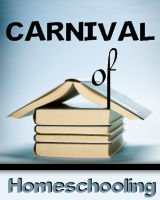 There is such a wealth of information in Carnival of Homeschooling for this week, that it is really hard to know where to start! I'll just have all you contributors know that it took me 3 times longer than I thought to put this carnival together because every time I got done reading one of your articles, I just had to keep reading more and more articles from your blogs! 🙂

I genuinely hope everyone enjoys this week's edition and that you are blessed with some encouragement and some new ideas from your time. Enjoy!
Inside

A great idea from My Quiver's Full for a game to improve your children's reading skills that you can easily make at home!
Reading Shakespeare at 8 years old and loving it? You'll have to read it at Sage Parnassus to believe it!!
What do ice cream, BB guns and sugar have to do with astronomy? Sarah at The Forest Room takes us on quite the adventure as she tells us about her astronomy lesson, and gives lots of great resources along the way!
Pamela at Blah Blah Blog talks about how she dealt with her child when the child was seeking a change in how learning was being accomplished.
Melissa talks about a great tool that she really loves for Literature.
Kris is adding spark to the homeschooling day thru hands-on activities like computer games! Lots of great resources for all of your weird, unsocialized homeschoolers!

A fantastic way to provide higher level education for your child modeled by Bruggie Tales in Australia! Such an adventure!

The Deputy Headmistress talks about their reading and literature program – the how and why she does what she does. This one is a wealth of information!
Arby shares a day in the life of two homeschooling brothers from the perspective of their homeschooling daddy who is Boarding in Bedlam.
Do you know the real history behind the words you use? Stephanie shares a book review that will reveal some very interesting word histories!
Outside

Take a beautiful nature hike with Baby Steps and see some wildlife along the way.

Fred at the Parenting Squad talks about natural light in the morning and how it may effect your children.
Mrs Mama Hen shares some thoughts and photos from a wonderful day outing with her homeschoolers. (part 2)
Blogging

Some tips on finding new readers for your blog from a homeschool blogging class.
Followed by one of the students from the blogging class! Exciting to see the kids learning!

Holidays

Chrysalis reviews a book with another perspective on the story of St. Patrick's day.
Lara at Texas Homesteader supplies us with some resources to help celebrate St. Patrick's day, including some gluten-free cookies.
Public Schools

Parent At The Helm discusses the awful truth about public schools.
Derrick at WhyHomeschool provides a very thought-provoking article about where your school tax dollars actually go. He links in a wonderfully done video to go with it.
Organizing

Mrs. White takes us through her teenager's daily schedule – its so nice to see a real life example!
Great tips regarding how to plan for year-round homeschooling from Special Needs Homeschooling.
Some great organization ideas for all those arts and crafts supplies from Living Peacefully With Children!
Fabulous ideas with photos for making your space work for you and your homeschooling family! Thanks to Renae for letting us peek into her home!
Everyday Life as a Homeschooling Family
Eclectic Homeschooling shares a video post about one of their school days.
Wendy at Athena Academy presents her very well thought out answer to "how can you teach him everything?"
Home Spun Juggling weighs the money versus the child's well-being. We're all on a budget, but sometimes we need to take a step back. As usual, the hilarious comic strip says it all!
Carol at Everything Home … with Carol gives a thoughtful encouragement to help deal with stressful times and still stick with homeschooling.
NerdMom at Making Money, Keeping Money helps us with some great ways to save money at the craft store!
Tiana at God Made, Home Grown has a very comprehensive and intelligent "vent" about a recent article regarding evolution and homeschooling.
There are class clowns at school and at home! Stephanie shares a photo and some real live proof.

Whew! That was so much fun to put together and I have learned some new things that I plan to putting into action right away! How about you?
Don't forget that next week's Carnival will be hosted by The HomeSpun Life. Make sure to get your submissions in early!
If you missed last week's Carnival, stop by About Homeschool to check it out. Or you can visit the CoH archives at WhyHomeschool.