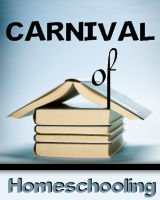 Welcome the Carnival of Homeschooling!!
If you are anything like me, this carnival is one of the highlights of the internet for you! Join me as we learn and fellowship together!
Just one little bit of housekeeping first off. The website that this carnival goes through to get submissions, BlogCarnival, has been down for several weeks which means that the number of our submissions have gone down greatly. Submissions are always accepted through the home site, WhyHomeschool. Let's work together and bring this Carnival back up to the popularity it deserves!!
And now, for this week's submissions!
Henry at WhyHomeschool presents "Homeschooling in the News" comparing past media sentiment regarding homeschooling to the landscape of today's news and finds an interesting shift.
Annie Kate at Tea Time with Annie Kate presents "After the Homeschooling Conference" giving us some great ways to make sure all that motivation and inspiration we received at the homeschooling conference actually impacts our homeschooling strategy on a day-to-day basis. (You can also visit Annie Kate at Embracing a Gluten Free Life.)
D. Headmistress at The Common Room presents "Good Books and Stories Build Character" helping us to see that using well written stories and tales builds vocabulary and writing skills, but more importantly, gives children grand ideas to think about.
Rachael at Diamonds In The Rough presents "The Real Benefits of Homeschool" where she lists the many non-academic, REAL reasons to homeschool!
Melissa at The Cork Board presents "The Summer Plan" showing us a great example of her plans for letting her kiddos enjoy the summer while still getting in some brain exercise including two FREEBIES. (You can also find Melissa at Melissa Corkum Photography.)
Sharon at Reading-Writing-Learning presents "5 Parenting Tips For a Moral, Successful, Happy Child" sharing that "all of us parents want our children to grow into happy, moral, successful adults. The way we discipline them has a great influence on them reaching this wonderful goal. Here are 5 tips parents can use to make sure their discipline methods develop great kids."
Jennifer (that's me!) at HomeGrownMommy presents "How To Find Free Events or Field Trips In Your Area" sharing lots of ways to find the fun free events going on all around you for an educational trip or just a break from the norm.
That's all folks! I hope you enjoyed this go-round of the Carnival of Homeschooling! Make sure to submit your articles for next week to WhyHomeschool (since BlogCarnival is down for now).